Whitewater Boats 28'
---
WhiteWater Boats is considered by many as the hidden gem in the offshore fishing world.  They are a small company, but have developed somewhat of a legendary status among serious offshore fisherman over the years.  Norman Collins built this business after splitting from another well known builder he started with.  After that went south, he decided to go off on his own and WhiteWater Boats began, close to 40 years ago.
WhiteWater's 28' CC is by far their most popular model, consistently keeping over a one year waiting list to order.  You will also find it extremely hard to find a used one as owners hate to let them go.  They also build a 32' that is the flagship of the company, offering a bit more length for those who need it.  They just discontinued their 25', which will surely make that model a classic for any family to cherish, that is if they can get their hands on one.
No two WhiteWaters come out exactly alike.  The company offers just about any customization you can dream up, so each boat is built exactly how each owner wants it.  The 28' comes in an open configuration or as a cuddy cabin, and can be built with a conventional notched transom or with a full transom/B-Bracket. If you prefer inboard power (gas or diesel), Whitewater owner Norman Collins will build you an inboard, with either a straight shaft or a jackshaft and I/O setup. You can practically design the boat you want from scratch.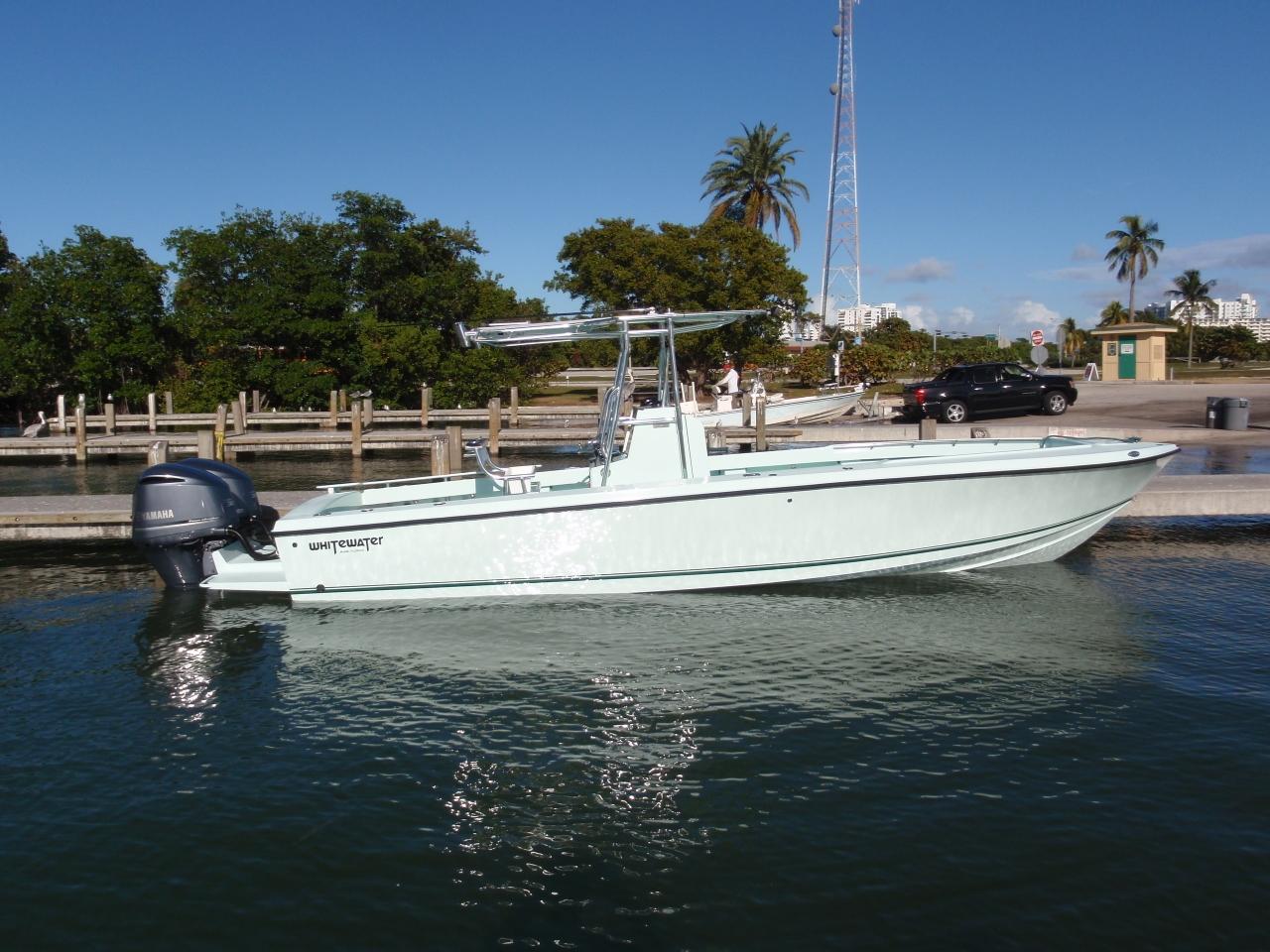 Specifications:
LOA: 28' 3"
Beam: 8' 6"
Draft: 18"
Dry Hull Weight: 3,800 lbs.
Deadrise: 24 Degrees
Fuel: 150 Gallons (250 Optional)
These boats are built to fish Miami waters to the Keys and all West to the Bahamas, so they are made to live offshore. Standard fuel tanks on any vessel rigged with outboards hold 150 gallons but can be expanded to 250 on all models. This, combined with today's energy efficient outboards, gives you the capability to run anywhere you desire with range to spare.
There are many quality builders of versatile and high quality center consoles with well known names in Florida, but Whitewater Boats has quietly carved a dedicated and loyal niche in the market with customers who covet a boat that may not be as well known in wider circles.  We hope you check this company out and learn more about what has made the name WhiteWater legendary around the circles of well respected fisherman far and wide.
Visit their website at WhiteWaterBoat.com
All the best,
Alan