Tideline Boats - 235 Hybrid
---
Tideline Boats, Inc. was formed with one goal in mind: "To produce boats that integrate the superior, smooth, dry ride of a catamaran while maintaining the classic looks and aesthetically pleasing lines of a custom-built sportfishing boat."
A true hybrid, the Tideline 235 can do anything a bay boat can do but is more offshore capable than any bay boat on the market today. With a shallow draft, it tracks very well with a bow mount trolling motor, is quiet with no hull slap and is a great inshore vessel. But unlike so many other bay boats, the Tideline 235 Hybrid is truly offshore capable. Rigged with twin engines, a large fuel capacity, insulated fish boxes, and a soft and dry cat ride, this boat is just as comfortable outside the inlet as it is staying inside.
There is an ongoing argument about Hybrid boats and their true functionality.  Do these boats really perform well inshore, as well as, offshore?  There are many hybrids out there that may be the exact opposite in my opinion, but the Tideline definitely does not fall into that category.  The fact that it's a catamaran really gives it that offshore capability and stability that some others may lack.  They all can run offshore on calm days, but this 235 can really hold its own if the tides decide to change.  On the other end, it maintains a very respectable 14" draft, which still gives you great access to skinnier water.  Basically, she passes our most important tests when trying to rate a Hybrid style boat, and we recommend you check one out personally in search of this style of CC.
Check out a quick video below from the company showing the 235 Hybrid in action.
Just like most Center Console styles and brands, a Hybrid is a boat built for a very specific angler, and they fit that need well.  They also seem to be the perfect CC for a family with children on board often.  They don't run the risk of falling out as we see with some flats and bay boats with flat deck and no exposed hull sides to tuck behind.  The gunnels are also not standard height which limits a child from seeing out at all in most cases.  Although you should always hold on to children and make sure they are in a safe position to navigate, these are little details that really make a difference in the family atmosphere.
Tideline Boats are 100% composite and have a functional and comfortable interior layout.  Check out some of the features on the floor plan below: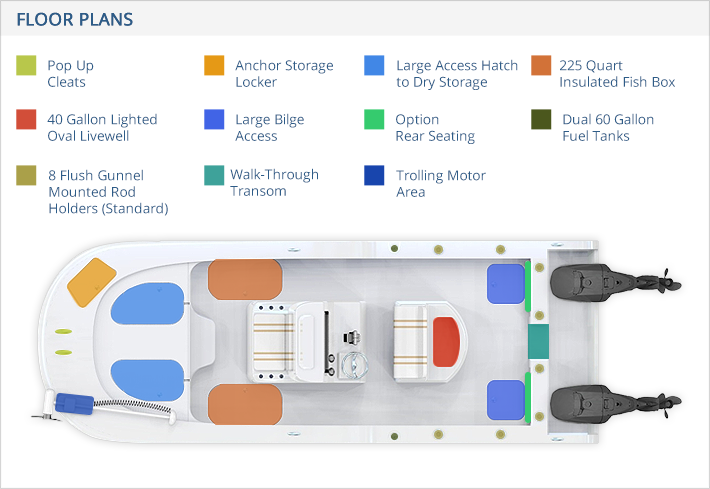 To learn more, please check out their official website at TidelineBoats.com