Sea-Lion Boats 34'
---
We first stumbled upon Sea-Lion Boats a few years back at one of the South Florida boat shows.  The 27' caught our eye from a distance.  I recall specifically noticing how nice that boat looked sitting in the water.  Clean lines, simple interior and a sick stance.  Those are three of the most important features I personally look for when approaching a CC for the first time, hence why I like the new Key Biscayne location for the Miami Boat show.  The 27' was their intro model and it was gorgeous.  Priced very aggressively as well, but I unfortunately didn't dive deeper within the company back then.  Now is a different story.
Sea-Lion introduced their new 34' Open and 34' Walkaround and really started making some waves throughout the boating industry.  The 34' Sea-Lion Open has a wide open cockpit with enough deadrise to split waves and a bottom design built for speed.  She has a large, 10' beam for the added power and stability for her triple outboards.  This boat is built for offshore fishing and her proven hull design will quickly show you her capabilities if given the opportunity.  The 34' Walkaround gives you the option to enclose more area, so longer, offshore trips are a possibility.  The extra storage makes it the ideal setup for island trips whether to target fish, or just looking for a relaxing weekend with the family.
Check out some more info on their 34' flagship below.  We will be adding more about their other models in the near future.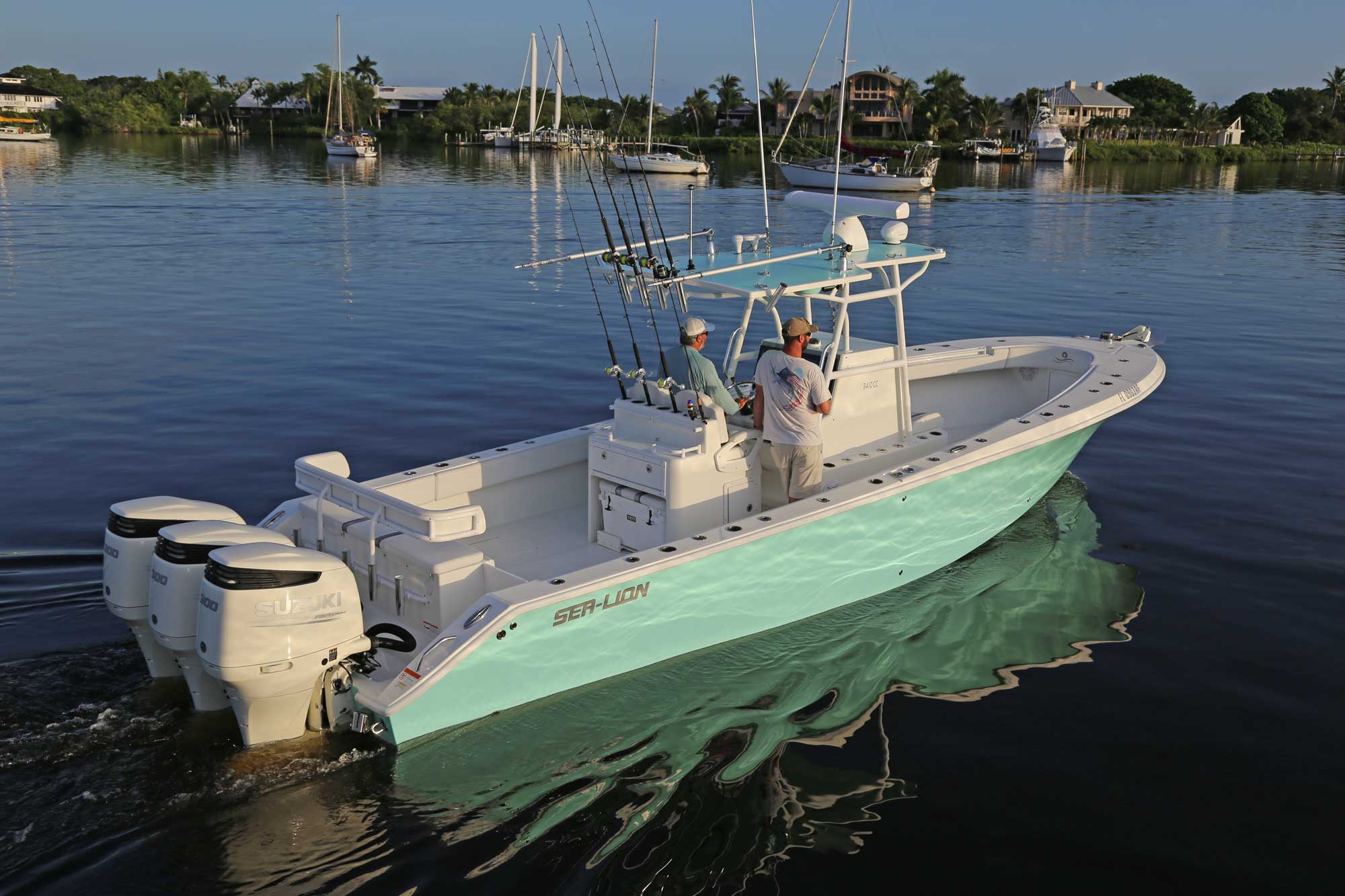 Specifications
Dead Rise
22.5 Degrees
Dead Rise
We have found that 22.5º is the magic number for dead rise.  This provides a smooth ride even in rough seas cutting through the water with ease.
Fuel Capacity
300 Gallons
Fuel Capacity
The 34′ offers a fuel capacity of 300 gallons, ensuring that you will have plenty of fuel for all of your trips.
Max HP
1200 HP
Max HP
With a max horse power rating of 1200 HP there are many options for single or twin outboard configurations that can be used to propel the 34′ hull.
Top Speed
65 MPH
Top Speed
When equipped with 1200 HP, the 34′ center console is capable of speeds up to 65 MPH.
Length
34 Feet
Length
The 34′ length is great for speed and cutting through rough seas. It allows ample space in the cockpit for fishing or relaxing.
Draft
24 Inches
Draft
A 24″ draft ensures that the hull will cut through the waves to give a smooth ride even in rough seas.
Beam
10 Feet
Beam
A large beam of 10′ allows for stability both when cruising and when sitting in a stationary position.
Average Weight
8,500 Pounds
Average Weight
With an average weight of 8,500 lbs when equipped with triple outboards, the 34′ center console is made to power through any water.
Layout